Kids Dentist in San Bernardino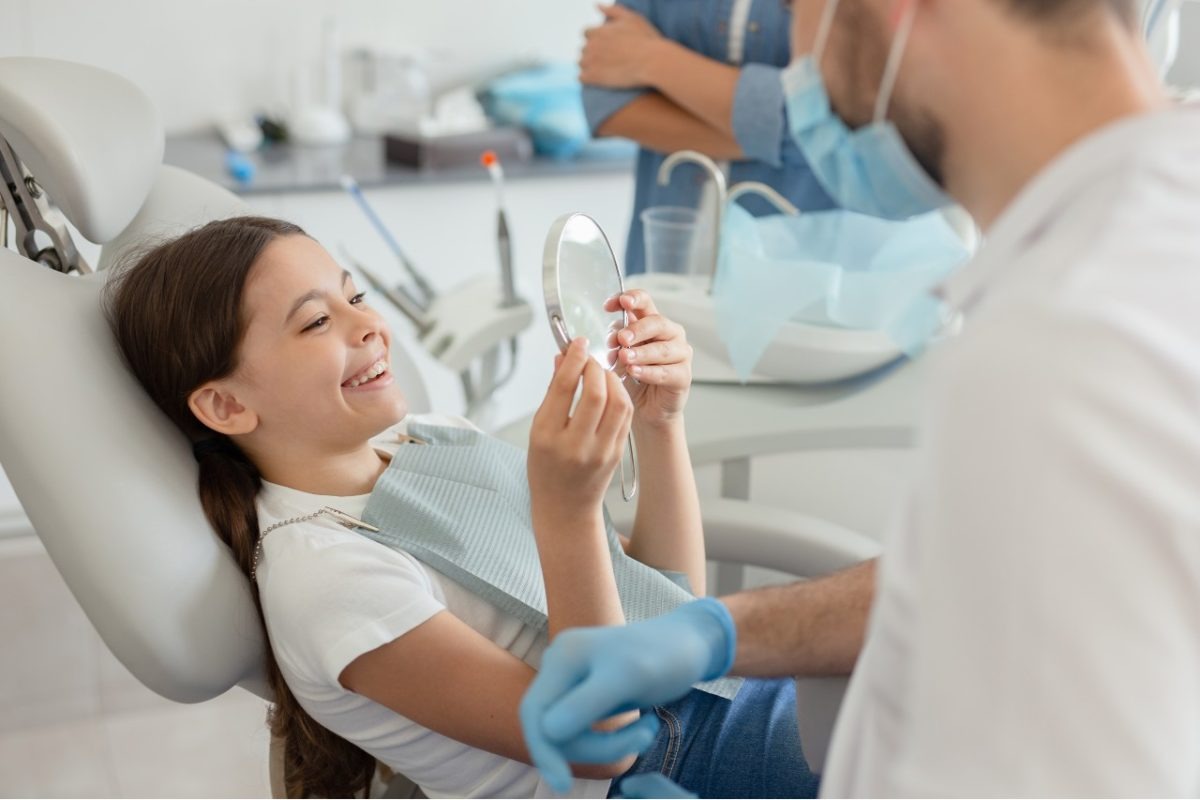 Childhood is a critical period for ensuring that your kid's dental health develops properly, setting them up for a lifetime with a bright, healthy smile. With a visit to a professional kids dentist in San Bernardino at Dream Smile City, you can address your child's dental problems in their early stages, protecting their dental health in the long run.
At Dream Smile City, we deliver modern treatments in a friendly and professional atmosphere for optimal results. With a wide range of dental care options for children, including sealants and preventative care, in San Bernardino, we are here to help you keep your kid's smile at full health.
What Makes Children's Dentistry Different?
Children's dentistry is a specialized field of dentistry that focuses on the unique needs of kids and adolescents. We understand that kids may have particular behavior concerns or need special accommodations during their visit, so we take this into consideration when providing them with treatment.
We also dedicate time to talking to kids about how to best protect their teeth and provide them (and parents) with the tools to help them achieve a lifetime of dental well-being. We are happy to answer any additional questions parents might have and provide you with additional tips.
Benefits of a Visiting a Children's Dentist
When kids visit a kids dentist in San Bernardino, they benefit from personalized attention as well as tailored treatments. At Dream Smile City, our kids dentists will always take the time to answer kids' questions and make them feel comfortable before and during any treatment. We are also able to provide parents with advice on how to keep kids' teeth healthy throughout childhood. Some benefits our patients can count on can include:
Adaptive treatments to match your child's needs
Working with parents for various accommodations
Compassionate treatment and a friendly environment
Expert knowledge and answers ready for any questions parents have
A range of treatments for a foundation of childhood dental health
Signs Your Child Needs to Visit the Kids Dentist
It is important to visit kids dentists in San Bernardino at regular intervals, but sometimes kids need more attention than usual. If you notice any of the following signs, it may be time to bring your child in for a check-up:
Bad breath
Toothache or pain when chewing
Sensitive teeth
Red, swollen gums
Mouth sores
Discolored teeth
If your child is exhibiting any of these signs, come see us for a comprehensive assessment and quick resolution. We are always here to help kids maintain their dental health in San Bernardino. Contact us today to schedule an appointment with our kids dentist! We look forward to seeing you and doing our part for helping your child stay healthy.
What Children's Dentistry Treatments Do We Offer?
At Dream Smile City, some of the kids dentistry treatments we offer include:
Cleanings and examinations
X-rays
Fluoride treatments
Sealants
Preventative care
Fillings and crowns
No matter what type of treatment your child needs, our kids dentist is here to help and provide the care they need. We also recommend bringing your child to the dentist twice a year for routine check-ups to ensure their dental health is in good condition. This also allows us to check how their teeth are growing in and let you know if they might need braces during their teenage years.
Tips for Helping Your Child at the Dentist
To ensure kids have a positive experience when visiting kids dentists in San Bernardino, we recommend doing the following:
Talk to kids ahead of time and explain what they can expect.
Teach kids to brush and floss their teeth every day.
Schedule regular check-ups with our kids dentist for preventive care.
Make kids feel comfortable and relaxed during their visit.
Give kids incentives after the appointment to make it more fun.
Schedule Your Appointment Today
In order to help set up your kid for a lifetime of oral health, you want a team of experienced professionals on your side. Contact Dream Smile City to set up your appointment for a visit to our expert kids dentist in San Bernardino today, giving your smile the ideal remedy to have it back to full health. We look forward to keeping your kids' smiles at their best through a history of dental excellence.
Skip to content