Dentures in San Bernardino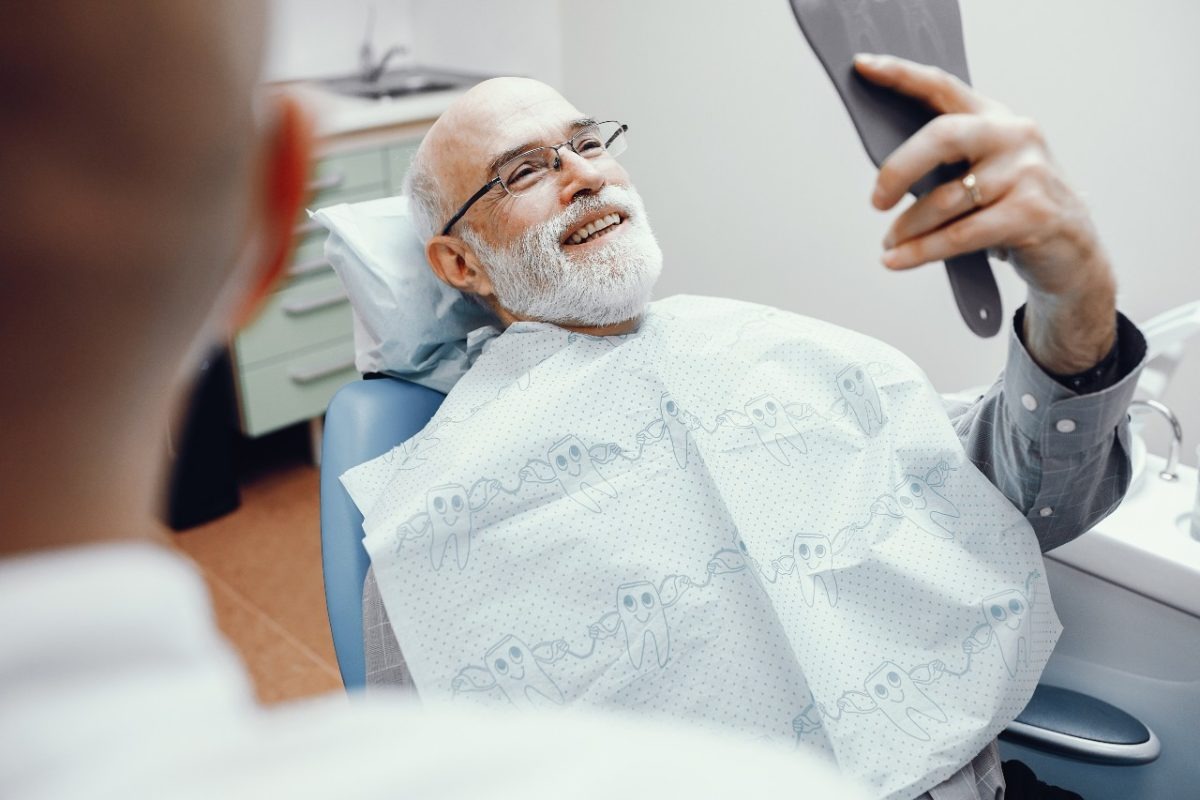 When you are dealing with significant tooth loss, it can radiate effects out on one's quality of life in general. That is why choosing a way to replace missing teeth can be such a positive impact on our patients' lives. When you choose dentures in San Bernardino at Dream Smile City, you can bring your smile back with a tooth replacement option that can last a lifetime.
At Dream Smile City, we deliver modern treatments in a friendly and professional atmosphere for lasting results our patients can enjoy. With a wide range of dental care options, including restorative options, in San Bernardino, we are here to help you bring the best out of your smile.
What Are Dentures?
Dentures are a set of prosthetic teeth that can replace several missing teeth (or all of your teeth), giving you a full and complete smile. Our dentures in San Bernardino are custom-made to fit your mouth for the most comfortable feel possible while also restoring basic functions. They also look very natural, helping to increase self-confidence as well as improve oral health for years. With the right set of custom dentures, our patients can gain back a sense of confidence and control over their lives by restoring the ability to speak, chew, and eat with ease. We offer our patients several denture options, including partial & full dentures and implant-supported dentures.
Partial Dentures
Partial dentures are the most common denture type and involve a set of several prosthetic teeth that complement your natural teeth. This denture is often used to help fill out the gaps from missing teeth, allowing patients to chew and speak with ease while restoring their smile to 100%. They can also be taken out at night for cleaning easily and maintenance.
Full Dentures
These dentures involve the replacement of all of your natural teeth in the upper or lower jawline and are often recommended for those suffering from severe tooth loss. Full dentures look just like real teeth that can blend in with your smile while still providing amazing levels of comfort and denture stability. Like partial dentures, they are removable for easy cleaning and care.
Implant-Supported Dentures
If you're looking for dentures that stay in place, implant dentures are your best option. This denture type is supported with artificial dental implants that attach to the jawbone, providing a secure fit and complete denture stability. Implant dentures can also help preserve facial structure while lasting for decades with proper care. While there are a few extra steps to getting this type of dentures, our patients agree that the added stability and other benefits are worth the process.
Benefits of Dentures
When you choose Dream Smile City for your dentures in San Bernardino, you can expect to look forward to the following benefits:
A natural-looking and complete smile
Improved denture stability for greater comfort
Ability to chew, speak, and eat with ease
Preservation of facial structure
Longer-lasting dentures with proper care
Signs Dentures Are Right for You
Dentures may be the right choice for you if:
You have missing teeth on one or multiple rows in your jawline
You are looking to restore denture stability and comfort
You want a natural-looking smile replacement
You would like to preserve facial structure and denture longevity
What Is the Process Like for Getting Dentures?
Getting dentures at Dream Smile City is a straightforward process that begins with a consultation with one of our dental specialists. During the consultation, we will discuss denture types, options, and materials to find the best tooth replacement solution for your needs, whether that is dentures or another option. We'll also take dental impressions or use digital technology to get exact molds of your mouth and create dentures that fit perfectly.
Once dentures are ready, we will go over proper denture care and maintenance to ensure a longer denture lifespan and continued denture stability. We'll also discuss diet and lifestyle changes to help keep your dentures in top condition.
How Long Do Dentures Last?
With proper denture care and cleaning, dentures can last for up to ten years in some cases. However, dentures may need adjustments over time due to the natural shifting of teeth and jawbone tissue, which we will gladly help you with. Our dentists will work with you to keep your dentures in top condition so that you can enjoy the benefits of denture stability for as long as possible.
Schedule Your Appointment Today
If you have teeth lost due to decay or injury, you want a team of experienced professionals at the ready to restore your smile. Contact Dream Smile City to set up your appointment to visit our experts in restorative care for dentures in San Bernardino today, giving your smile the ideal path toward being complete. We look forward to bringing your smile back to its finest through a reliable dental process.
Skip to content