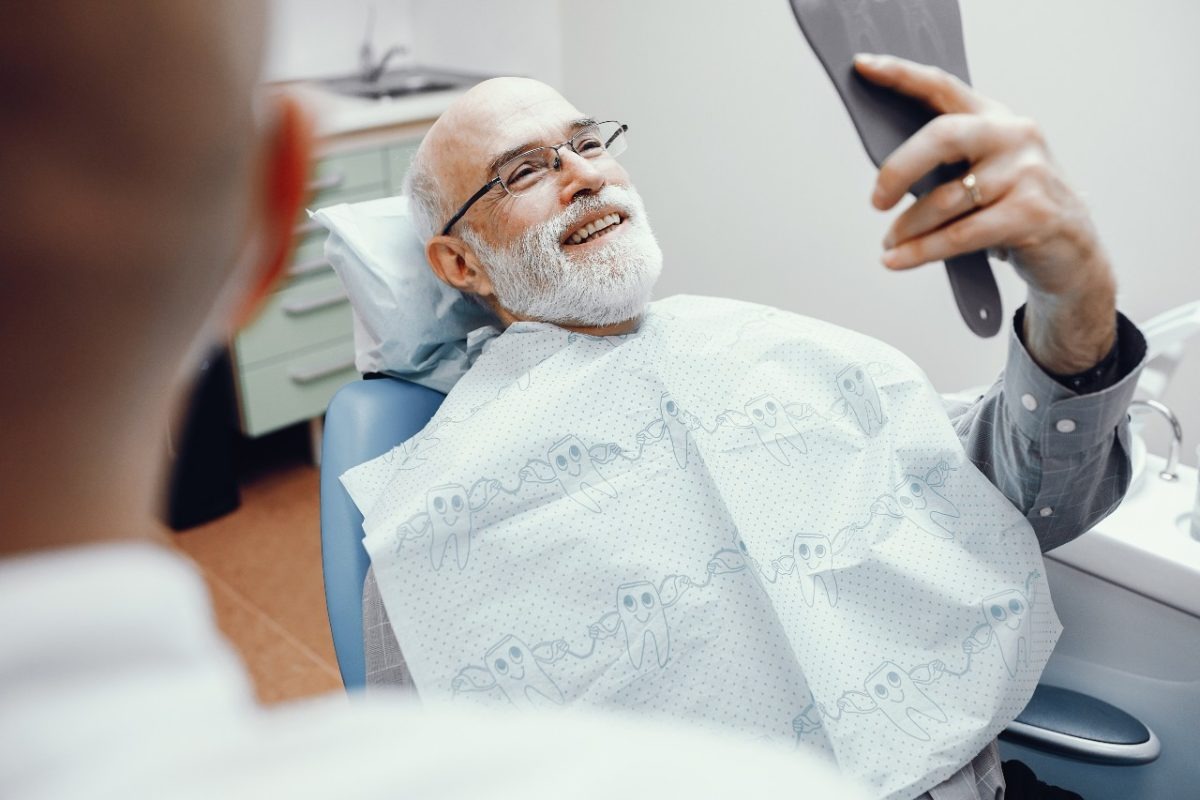 Facing tooth loss can be a challenge, so we want our patients to have the chance for a complete smile at any point in their lives. When you choose dental implants in San Bernardino at Dream Smile City, you can bring your smile back with a tooth replacement option that can last a lifetime.
At Dream Smile City, we deliver modern treatments in a friendly and professional atmosphere for lasting results our patients can enjoy. With a wide range of dental care options, including restorative options, in San Bernardino, we are here to help you bring the best out of your smile.
What Are Dental Implants?
Dental implants are an advanced dental restoration used to replace missing teeth with a focus on long-lasting, natural-looking results. They provide a permanent, fixed solution for replacing missing or extracted teeth and restoring your smile after being affected by tooth loss. The dental implant is made up of two parts: the dental implant post and the abutment, which is attached to the dental implant post once it has been secured into place in your jaw. The "tooth" part is called the crown, and it rests on the anchored implant structure, replacing your missing tooth and doing anything that your natural teeth can do.
Benefits of Dental Implants
Dental implants have many benefits over other dental restoration options, making them popular among a wide range of patients. Some of the key benefits our patients report can include:
They look and feel like your natural teeth, so you can go about your daily life without worrying about them falling out.
Dental implants are also highly durable, able to last a lifetime with proper care and maintenance.
In addition, dental implants help preserve the surrounding healthy teeth by not requiring dental bridges or dentures, which may require other teeth to be filed down for support. Finally, dental implants can help maintain your jawbone density and strength by stimulating the bone similar to natural teeth. This helps prevent the jaw from shrinking due to insufficient stimulation from missing teeth.
If you are ready to rebuild your smile with dental implants, contact our office today to learn more and get started with a personal consultation with our implant specialist.
Signs Dental Implants Are Right for You
If you are missing one or more teeth, dental implants could be the perfect solution. Here at Dream Smile City, we can help you determine if dental implants are right for your dental needs and goals. Some signs that dental implants may work for you include:
You have healthy gums and bones to support dental implant posts.
You are in good overall dental health.
You are looking for a permanent dental restoration solution.
You want a natural-looking dental restoration alternative.
You have sufficient jaw bone mass to support the implant (even if you do not, you may be able to have a bone grafting procedures to build up bone in your jaw)
Call our office today to learn more about dental implants and find out if they are the right dental solution for you, or we can match you with our other replacement options.
What Is the Process Like for Getting Dental Implants?
At Dream Smile City, dental implants are a straightforward process, but they can take a bit of time and a few visits to finalize your results. We start with an initial consultation to determine if dental implants are the best option for your dental needs and goals, discussing the entire process with you. After that, we will create a customized dental implant treatment plan featuring steps spread over about two more visits. These include:
Placement of dental implant posts
Attaching abutment hardware
Fitting dental implant crowns
When you leave our office after the treatment is complete, you will have a fully restored smile with dental implants you can enjoy for years to come.
How Long Do Dental Implants Last?
When properly cared for, dental implants can last anywhere from decades to a lifetime. With regular dental checkups and professional dental cleanings every six months, dental implants are durable enough to last for years without needing any replacement. However, it is important to maintain good dental health after you receive dental implants with daily brushing and flossing as well as regular dental visits with us. If you need any additional care tips, we will gladly provide help and knowledge along the way. Just give us a call and we are always happy to help and do our part in keeping your smile at its best.
Schedule Your Appointment Today
If you have teeth that were lost due to decay or injury, you want a team of experienced dentists on your side to restore your smile. Contact Dream Smile City to set up your appointment for a visit to our experts in restorative care for dental implants in San Bernardino today, giving your smile the ideal path toward being complete once more. We look forward to bringing your smile back to its finest through a process of dental excellence.
Skip to content