Finding a dentist for the well-being of teeth and gums should be the paramount focus of an individual. However, the biggest dilemma that arises is distinguishing between a bad and a good dentist.
Unfortunately, not all dental practices are experienced. Even if governments of various states across the United States have set strict norms and qualifying criteria, some bad service providers still exist.
A good dentist helps you spot various teeth-related problems such as gum infection, fractured teeth, exposed roots, and many more. They also help you keep your teeth healthy for the long run.
That's why choosing a good family dentist should be on your top priority list.
The concept of choosing an expert dentist in San Bernardino is quite subjective because it entirely depends on a person's personal preferences and what qualities they look for in a dentist.
There are specific objective measures that we will share with you in the forthcoming paragraphs to help you choose a good and renowned family dentist.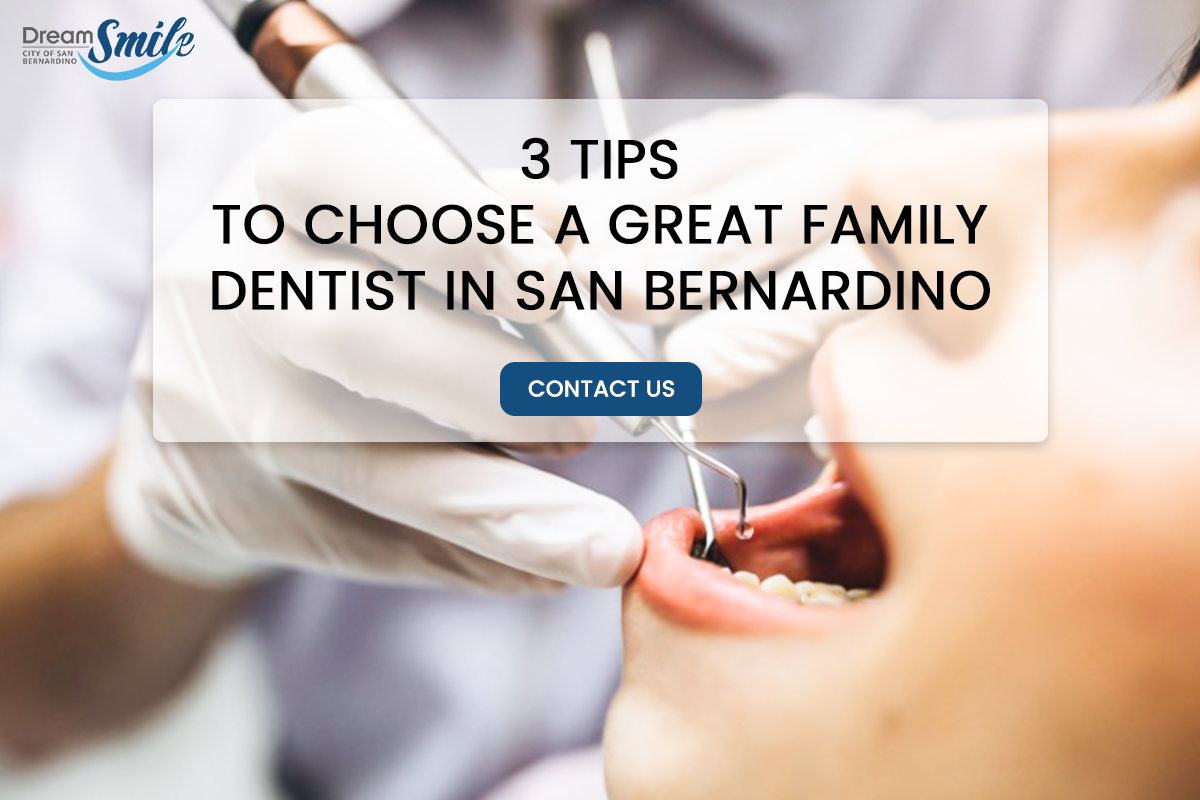 Do they have credentials and experience?
To check the dental credentials visit their official website of service provider and explore the about us page. They must have put information about their business operating years. Also, take note of if it's a dental practice with multiple dentists or an individual dental service provider. In case numerous people work under one organization, identify do they have equal qualifications?
Do not feel shy to visit them as a person.
Beware of the dental practices or dentists services providers in San Bernardino who use old technologies, operate old dental equipment, have no dental records, and most importantly, have negative customer testimonials.
Does the dentist's office good for your family needs?
When it comes to choosing a family dentist in California, you will definitely want to make sure that you will get the highest level of care. After all, there will be a number of choices, and it's pretty obvious to get overwhelmed. But remember, each family is different, and they have different requirements.
You may have young children to aged people at your home. So always make a checklist when you step out to explore a dental practice in San Bernardino. For example, you can choose a pediatric dentist who deals with babies and preschoolers while a general dentist for the dental care of younger and older people at your home.
Do they help people with dental anxiety?
Dental Anxiety and phobia are common, and anyone can get anxious while going to a dentist. If fear is something that prevents you from going to a dentist, there are some top dentists in San Bernardino like Dream Smile who help patients with phobias and fear.
If this is the case with you, do not hesitate to choose us as our oral experts will make you comfortable during your visit and welcome every small query you have in your mind. As being scared of going to a dentist can cause severe oral problems late, choose the one who can help you alleviate your dental anxiety.
Why choose us?
At Dream Smile, we offer a free first-time consultation and allow you to assess our dental office in San Bernardino. At our office we will accommodate all of your requests in just one appointment, which can be a great convenient for you!
Ultimately, we suggest whatever you do, though, take your time, and choose the one with great care as your decision will keep everyone in your family smiling and healthy.